Dr. Ellen Holmes Pearson's Digital History Students to Present at Swannanoa Valley Museum and History Center's History Cafe
Monday, May 24th, 2021, 10:30-11:45 AM
Dr. Sean A. Wempe, Assistant Professor of Modern European History, California State University – Bakersfield to give talk, "Pandemic Racism: Historical Patterns of Disease Burden"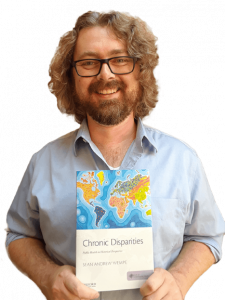 Dr. Sean A. Wempe will give a talk that will highlight how pandemics have, throughout history, exacerbated existing inequalities in societies, particularly in terms of race. The talk will focus on the Seven Pandemics of Cholera, the Third Pandemic of Plague, and the ongoing HIV/AIDS Pandemic as examples to help put the current racism and racial disparities associated with the COVID-19 pandemic in context.
Friday, April 16, 2021 – 3:30-4:45PM EST Via Zoom
Dr. Wempe's talk will be preceded by a virtual workshop for UNCA faculty members entitled "Pandemic Pedagogy: Teaching the History of Disease and Public Health in the Classroom and Beyond" – Friday, April 16, 2021 11:00AM-12:00PM EST via Zoom
Dr. Sarah Judson to Speak at Two Events in October: 
Locating Grassroots Democracy: The Asheville Tenants Rent Strike of 1968/69
Thursday, October 1st – 11:45am-1:00pm via Zoom
And
2020: Women in Politics, A Critical Commemoration of the 19th Amendment
Dr. Judson will join Dr. Lyndi Hewitt and Dr. Tiece Ruffin for a panel  discussion of African American Women and the Suffrage Movement, Discursive Politics within Women's Suffrage Movements, and Women's Suffrage in the South.
Thursday, October 22nd – 6:00pm via Zoom
Register at:
History Department to Host First (Virtual) "Historians at the Movies" Night, Featuring Satirical Film The Death of Stalin
Friday, October 2nd – 7:00pm via Zoom
Join us for an evening of virtual socializing, film viewing, and discussion!
RSVP to Laura LaGrone by September 30th at llagrone@unca.edu; connection information will be emailed out to respondents on the day of.